I had the strange realization two weeks ago that I have been living in a tournament bubble. And this realization is making me question how much of a tournament player I really am. Here is what happened.
I had to miss the last three Oakland Pinball Warriors (OPW) selfie league finals, so I decided to go to the San Francisco Super Selfie league finals (thanks Gene X for running the tournament) being held at Alamo Drafthouse. Here is the lineup: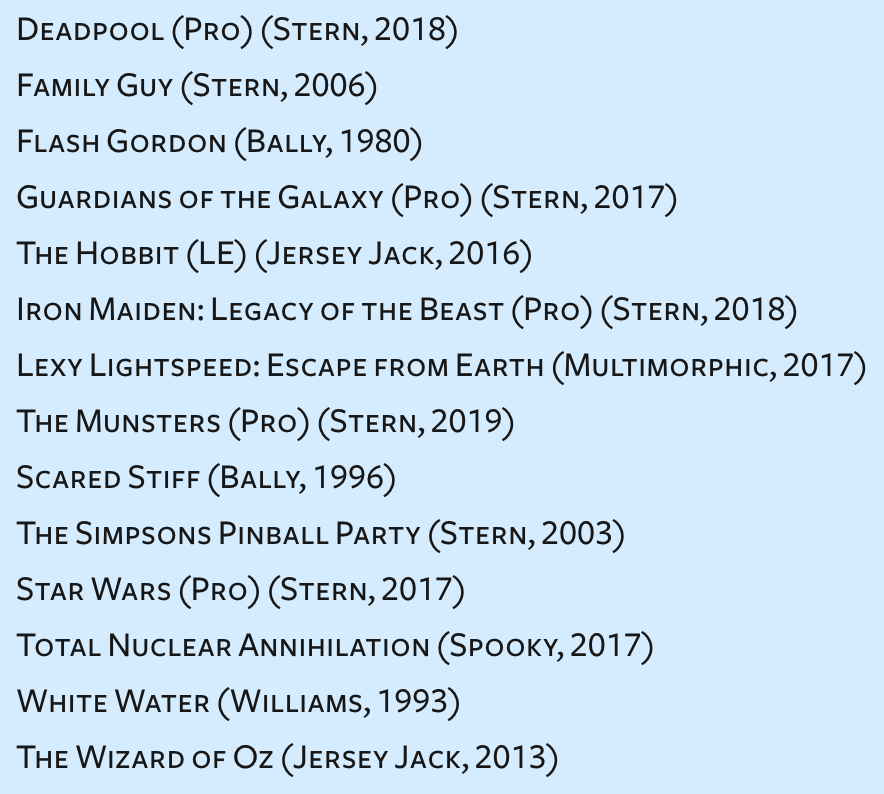 I checked out the lineup before hand, and knew that there were a number of games that I actively dislike (Hobbit, Lexy, Simpsons, Star Wars, and Wizard of Oz), but decided "What the hell" lets go play some pinball.
So my pinball day started at 11am putting up three qualifying scores so I could be in finals. Then I played a few other games until the tournament got going. I did well in the tournament and came in 3rd and then hopped on the BART back to the East Bay at 8pm. For most people that would be a great day of pinball.
For me I enjoyed seeing, talking to, and playing against my friends. That is always the great part of tournaments. But to be honest, I didn't enjoy the pinball. Here were my tournament draws:
Simpsons Pinball Party x3
The Hobbit x3
Munsters x3
Flash Gordon x3 (one was a tie breaker)
Iron Maiden
Family Guy
Star Wars
So seven of my fourteen games were on machines that I dislike! If you don't count the tie breaker, half my games! I fully understand that this is just part of tournament play. But it made playing pinball less fun and more like a job. And ultimately I play pinball for fun.
That day I found out that how I feel about a machine has a profound affect on my tournament experience.
When I play a machine I like, my goal is just to have a good game. It really feels like it is me against the machine first, and me against my opponents second. I still sweat out if my ball 3 score will hold up or try to win if I am player 4, but I also enjoy seeing my opponents blow up the machine.
Strangely it is very different on machines I don't like. I assume I play worse on those machines. But that day I realized I don't like watching other people play those machines. Since the shots/rules don't interest me, I don't enjoy watching the game play, and then it just becomes a matter of winning and losing. And I really hated sitting around hoping that other people would do poorly just so I could advance.
I have been playing in tournaments for the last five years, but have never had an experience like that before. It seemed strange to be sitting around so much of the day just waiting for my games to be over. But then I realized that I had never been in a tournament where I had so many games on machines that I hate.
Most of the tournaments I have played were in Oakland and Emeryville with lineups that I like. There would be one or two machines that I hoped to avoid, but the vast majority were games that I enjoyed playing. When I did play in San Francisco, I chose tournaments at locations based on their lineups. And the occasional larger tournaments (City Champ, California Extreme, Golden State Pinball Festival) that I have played in have never given me such a crappy draw. Even in OPW I only put up selfie scores on machines that I like to play.
So I have been playing in a tournament bubble. A tournament bubble of my own design. I have self selected tournaments and locations with lineups that I enjoy.
And two weeks ago my bubble burst!
So I am not exactly sure what is going to happen in the future. Ultimately I play pinball for the fun of it. Up until now that has included tournaments. But East Bay pinball has lost Scarlet City and HiLife, so tournament venues and their lineups are a lot less appealing. I will keep putting up OPW selfies and the Pacific Pinball League is a fun casual competitive environment. I may occasionally head out to SF if the lineup is to my liking, and this weekend is City Champ. But it will be interesting to see if I make my twenty state championship qualifying tournaments this year.
I will keep you posted.
David